MaryAnn
Today's date is June 19, 2006 and I received a card from Maryann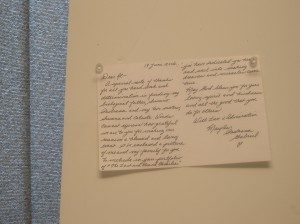 "Dear Al a special note of thanks for all of your hard work and determination in finding my biological father and my two sisters, Susanna and Celeste.  Words can never express how grateful we are to you from making our reunion a blessed and loving event.  I've enclosed a picture of me and my family for you to include in your portfolio of the lost and found families.  You have dedicated your heart and soul into making dreams and miracles come true.
May God bless you for your loving spirit and kindness and all the good that you do for others.
With love and admiration MaryAnn

December 1995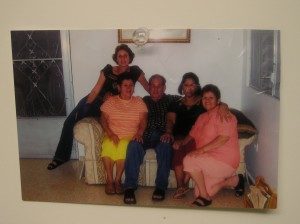 MaryAnn came to me in 1995 with her story and search for her birth Father.  She had been searching for 25 years at this point and had no intention of giving up.  Her husband Steve and I had met in the past couple weeks and he told her she should contact me see what I could do for her.
Basically in 1970 MaryAnn had learned her birth father's name and began searching with no luck.  When she told me her story about where she grew up and gave me a little background of how her search had begun. After listening to her, I asked if her brother's name was Jimmy She was surprised that I knew her brother Jimmy. I said I grew up with Jimmy back in the 1960s.  I asked how he was because the last time I knew of him he was living in Brockton.  She said now he's now living in Colorado.  She told her story and how long she'd been searching and had no intention of giving up. She gave me the name that she had been searching for and had sent out letters out over the years with no luck.  The strange part is that all it all started in Marshfield, Massachusetts in the 1950's.
I made a number of calls around town, nobody that I knew seemed to know the man I was searching for. So I went surfing on the net and there were a few matching names one in Connecticut, and one in Manhattan and I contacted the Manhattan person first.  This person had never been to Massachusetts so it ended that.  I contacted the fellow in Connecticut and his story was that he was born in Manhattan but left it many years ago with his mother and two sisters. Said he was named after his father but he hadn't seen his father and since he left Manhattan many years ago.
I called a guy back in Manhattan to ask if he had a son and daughters and he replied that his children had been taken by their mother many years ago. I explained my conversation with the man in Connecticut and asked if he would like to speak with his son. He said it's been a real long time but yes he would. I called back the man in Connecticut and explained my conversation of the his father in Manhattan.  He was totally surprised how this all came about as it had been many years ago, so, yes he was seriously interested in speaking with his father in Manhattan.
I asked how the rest of the family would feel about that and he said it was his choice and could I arrange it. Strange as it sounds working on one project I trip over another.
A number of years would pass because I just couldn't get a handle on MaryAnn's birth father. Apparently he was from Puerto Rico and with his last name there were too many to sort out from here.  I have a 3, 6, 9 month file that I put things and when they come up I try again to see if the name appears in any public record.  Time passed with no luck although  I did talk to Maryanne over the years but no luck on her part either.  Then in the summer of 2005 the name finally surfaced in Puerto Rico.  Just the exact name but that was enough for me to make a few calls to Puerto Rico.
With the language barrier I are really could not go forward without getting into details which under the circumstances I just couldn't do. I was at a stand still. Then, I happen to be in Florida visiting friends when I was introduced to Sunshine (nickname).  My friend Gail introduced us and she asked me to tell Sunshine what kind of hunting (research) I did. I explained to Sunshine my current problem because of the language issue and told her the story of MaryAnn and the answer sitting in Puerto Rico.  Sunshine says I'll be visiting my sister there next month do you want me a knock on that door for you.
I gave it some thought and if Sunshine was willing to do this Maryann would be quite surprised after all these years.  I explained to Sunshine that I walk softly so it would help if she did the same when knocking on the door. The following month she went to visit her sister and as I understand it took taxi out in the mountains and knocked on a door.  Two girls answered the door and then asked why she wanted to speak with their father. Why was Sunshine there. She explained that it was a personal matter and needed to speak with him alone. She was led to his room where shortly after she explained her reason for being there, everyone in the house knew and all went well.
When I next heard from Sunshine I thought the best plan would be to put her in touch with MaryAnn and let them work it out from there. Next, MaryAnn and her girlfriend did take a trip to Puerto Rico to meet her birth father and her sisters.  All was well and when Maryann came to me to tell me of her visit. She thought it had only been a few years since I began her research.  I told her 1995 and she said it couldn't be that long.  I showed her my working folder with the start date and she couldn't believe that I was that persistent.  I still think she doesn't believe it was that long ago, it was, but I am persistent.
Actually if I think it can be done, I don't give up, I put it in my 3, 6, 9 file.