Ellen A. Flatley
Fall of 2010
Missing: The Story of Ellen Agnes Flatley
On December 19, 2007 I was contacted by Mo Levasseur of Profile Search a Research Company from the North Shore. She had been working on a research project for a woman in Alaska. I had met Mo  in the past year while working on a few projects in and around Boston and I had done a little research on one of her projects. I had been at the Department of Vital Statistics working on a project when I heard her ask for something that caught my attention. We spoke for a few minutes about research and she asked where I worked out of. When I told her where I lived, she asked if I knew Jay Crowley? I told her I had known Jay for probably 40 years, she laughed. I asked where she was stuck on her project and I made a few notes and told her I'd get back to her.
After I finished my project for the day I took a look around on Mo's project, got what I needed and went home. The following morning I called Jay to be sure of where I was stepping with the information I'd found. He laughed when I asked for some background on Mo and I told him why. We had met in Boston and there was a paper trail that she was looking for and I found it. I wanted to be sure I was on good ground here before turning over this personal information. Again he laughed and said she will probably call him as well, which she did. I called her later that day and was a small help on her project.
Being as she knew the type of research projects that I prefer to work on, she contacted me to see if I had an interest in her current project. The search goes back about a hundred years so, yes, I was obviously interested. We spoke and I asked for whatever had been collected so far in this search. She then spoke with her client in Alaska, Jo Goring. Apparently this search goes back a number of years and a number of people have tried to find the answer to whatever happened to the missing  Ellen Flatley.
The basic story as I understood  it by then was that on July 29, 1907 Ellen Flatley, age 30 delivered a baby girl, Mary Isabelle Flatley and in 1910 that girl was put up for adoption. On record at the maternity home was the mother's name, she had been born in Ireland and had actually listed the fathers first name only, Patrick. According to the actual birth record she listed herself as born in Westfield mass. The 1907 Westfield city directory listed Ellen and Sarah Flatley as residents of that town. That was the only year they were listed as residents. Apparently at that time they were servants of the Crane Family, a well known family of the area.
There is very little other information on the original birth certificate other than the certificate number 6492 beside the date of birth.  Among the notes sent to me was a copy of the original birth certificate as well as a copy of the adoption record for Mary Isabelle Flatley daughter of Ellen Flatley that was dated December 1,19 10. The adoption record number 151200 was listed as an adoption and change of name change from Mary I Flatley to Marian McMillan.  The McMillan family lived in Providence Rhode Island and had come to Boston to adopt their Marian.
Years later as Marian was about to be married, she came to find out that she had been adopted. At some point she came back to Massachusetts and did collect enough information as known today to find her birth mother Ellen Flatley. The notes that were given to me were a wide range of Ellen Flatley's and other notes which should have made this a simple search.
Someone had spent an awful lot of time researching the name Ellen Flatley through the census records, passenger lists and the Department of Vital Statistics in Boston but had come to a dead end. Reading all the notes that were forwarded to me it seemed that they must have missed something simple, whatever that was, so I started confirming what I could before going to Boston.
In the notes forwarded to me was a marriage October 9, 1917 between Richard Dowling age 41 and Ellen Flatley age 30.  This marriage took place in Lynn Mass. The age for this Ellen Flatley places her at 20 in 1907. According to the records supplied Ellen was 30 when her daughter was born so I didn't look at this marriage until later when I got lost trying to find Ellen Flatley Joyce. Then that didn't go anywhere.
The second record of marriage was June 21, 1914 between Patrick F. Joyce age 46 (this was his second marriage) and Ellen A. Flatley age 38 her first marriage. She was the daughter of William and Bridget Connell Flatley of Ireland.
Then we have a death record for Ellen in Flatley who died in 1968.  She would have been about 35 years old in July of 1907.  She was the daughter of Michael and Sabina Lyons Flatley.
After reading at all of the notes that were sent, the object was to confirm what I've read.    This required a visit to the Department of Vital Statistics to confirm the information supplied.  Before going to Boston in January, I spent some time looking at the census records of 1900 1910 1920 and 1930 along with passenger records at the same time span.
The census records showed a number of Flatley families in and around Boston from 1900 through the 1920s.  At least three different families had Ellen, Sarah, Mary and Margaret Flatley's listed in the census of the Boston-area. The passenger records had a mix of Ellen, Sarah and Nora Flatley's in and out of the Boston-area from 1897 up to 1910.  Three sister's, Ellen, Mary and Sarah Flatley were around in the census records from 1910 to 1930 basically at the same address at 264 Cypress Steeet corner of Hart Street. Their next door neighbors were the Tyan's, John and Anna and their son's John Jr, (born 1915) Charles ( )  and Joseph ( 1918). I looked up the ages to see if any were still alive. Joseph lived in Marshfield, Ma in 1970.
There was another Flatley family that listed daughters Ellen and Sarah but the age did not match Ellen. Later it would be shown that this family had started out in England according to passenger lists later located. They too had plenty of passenger ship logs of the daughters in and out of Boston during the same time span of 1897 to 1910.  The more you looked at the passenger records, the more Ellen Flatley's you could find. Apparently a lot of them just did not make the census records
Looking at the passenger records between 1897 and 1910 there are a number of logs for Sarah W. Flatley. She arrived in 1902 and she was going to visit her sister Nora Flatley 18 Prospect Street in Winchester Mass.  1910 census placed Sarah at Mount Vernon Place in Beacon Hill.  The 1920 census placed Sarah at Salem Mass..  I located her death certificate of March 9, 1946, and it stated that the informant was her sister Nora (Flatley)  Flatley of 41 Vine St Manchester Mass.
Looking at the passenger records between 1897 and 1910 there are a number logs relating to Nora Flatley.  There was an arrival in October 11, 1897,Nora was going to visit her sister Ellen Flatley in Medford Mass.  Then there is another arrival on September 27, 1905 again to visit Ellen Flatley this time at Dustin Road Boston.
Apparently Marian and her children had spent a number years trying to find out what had happened to the missing Ellen Flatley which brings us to my involvement in the research project. Strange as it may seem there was enough information that this should have been what I call a simple search project. As it turned out it wasn't simple at all.
In early January after my first trip to Boston on the project I found that there were at least a dozen Ellen Flatley's floating around Boston. One of the first places I visited was that New England genealogical historical Society in Newberry Street, there I could confirm the resident book of Westfield 1907 the year before and the after.
On January 8, 2008 I mailed off the required form for a copy of the original Social Security card that Ellen H. Flatley filled out. After 1936 US citizens were required to apply for this card as they began any employment. A lot of older people applied as they reached the age 60, or as they retired from their employment. Being as there was a copy of the adoption record, and there was a signature of Ellen Flatey on it, I thought the best way to eliminate at least one known Ellen Flatley was to order a copy of the original S-5 form filled out when the social Security card is applied for. That would have signature of Ellen H. Flatley of Cypress Street on it.
Based on the approximate age of Ellen in 1907 and in the different families around Boston at the time I was able to narrow the search down  to about a  ½ dozen possible Ellen Flatleys, then the project would be to sort them out and see what happened to them based on age and or family. The main object was to find and research the Flatley family's that had a Sarah and Ellen Flatley in and around Boston during the 1907 – 1910 time span. By the end of January I had now expanded into more Flatley families that had daughters Ellen, Sarah, Margaret and/or Mary and tried to follow them through.
Usually the object is, if you can't find the one person you're looking for, you find someone connected to them and go from there. In this case there were just enough Flatley's to keep me confused.  I had a list of Ellen Flatley's born 1871, 1872, 1873, 1875 and 1877.
The next most likely Ellen lived on Cypress Street, Brookline Mass. She had a sister Sarah and a sister Mary. With the known date of death for this Ellen Flatley on a snowy February morning I was off  to The  Holy Hood Cemetery in West Roxbury. There was a gray stone with a Mary, Sarah, Ellen and Patrick Flatley located on that stone.  As it had turned out, this Patrick had come to the States and traveled between Boston and New Hampshire. He was the older brother of Ellen, Sarah and Mary. Apparently the three sisters had never married because I could follow them from their arrival in Boston to their grave.
While waiting for the Social Security information on Ellen H. Flatley of Cypress Street I moved on to marriage of Patrick and Ellen Flatley Joyce as it seemed that a Patrick had stepped back into the picture. I knew from the 1910 census Patrick Joyce had a wife and three son's, So, what happened to the wife??  I looked up her death and found that on January 1, 1913, she had died.
The listed address for Patrick was 448 Dudley Street on the marriage record and the next listed address was 24 Cedar Street., Roxbury. I went through the street listings for both addresses listed on the marriage record to see who else may have lived at those addresses. The census had Patrick listed as married in 1920 and 1930, although there was no listing of his wife Ellen. I spent more time looking for the ward records and followed Patrick up to 1933 still at 24 Cedar Street. Then from 1933 forward there was nothing to be found of Patrick F. Joyce dead or alive. At this point I had looked at plenty of death records for any Ellen Flatley's or Patrick or Ellen Joyce. The ones that were found did not match the known age of Ellen or Patrick.
By early February I had visited Saint Joseph's cemetery on Lagrange Street in West Roxbury a few times as well as Holy Hood cemetery also in West Roxbury.  What I was trying to do was locate any single Flatley graves as I traveled to these cemeteries. In one of my travels to St. Joseph's Cemetery there was a single grave for Thomas Flatley that I checked out. I would always look at single graves as I traveled the different places to see who was nearby, looking for Connell's or other not known Flatley's.  Across the road was a field where all the stones were laid flat.
Back I went to the Department of Vital Statistic's looking again to see what I had missed. Unless you have a Name and date of death at any cemetery they really couldn't help as there were too many Flatleys and Joyces. There were plenty of Ellen and Patrick Joyce records at the Department of vital statistics and each one had to be looked at individually to confirm that they were not the missing Patrick or Ellen Joyce.
I want back to searching passenger records to see when the different Flatley's came to Boston and there were a lot of Flatley's. While searching in the lists I found that in 1897 Dorah /Nora, age 19 was coming to visit people in West Medford at 5 Elm Street.
In 1901 on a passenger list I found Ellen Flatley was coming to visit Nora Flatley in West Medford or Winchester at 5 Elm Street.
In 1902 we have Sarah Flatley coming to visit her sister Norah Flatley at 18 Prospect St, Winchester, Ma.
In 1905 – Norah Flatley came to visit her sister Ellen Flatley at 29 Dighton St.
One more trip to the Department of Vital Statistic's I looked at birth records and found a birth record for Ellen Flatley 1943.  She is the daughter of James and Colette Flatley and a granddaughter of Dominick and Nora Flatley. So now  it was time to go to Manchester Massachusetts. I had already mapped my trip I just had not put a date on it, I arrived there early Saturday morning and took a drive by the cemetery before going into town to have breakfast.  Then I drove back to the cemetery which was set on a small town block with the church set on one side.
Most of these grave markers were real old inside the old iron fence area, but across the street there was a newer section, and within a few minutes I found the Flatley family plot. From my Boston research I had a list of names as well as Sarah Flatley, sister of Nora and Ellen Flatley, but  no Ellen Flatley or Ellen Flatley Joyce.  There was nothing found other than what I knew to be here by my research in Boston.  I did walk the cemetery though and strangely found a Crane Family stone and wondered were they related to the Crane Family that Ellen and Sarah worked for back in 1907, Westfield. After my visit to Manchester I did get a copy of all the death notices of this Flatley group. None of the death notices mentioned Ellen Flatley or Ellen Joyce. By the end of March I had connected  Nora Flatley, Flatley, Sarah Flatley and the missing Ellen Flatley as the sisters that had wandered around the 1897 – 1910 passenger lists and all were the daughters of William and Bridget Connell Flatley. I had gone to the Boston public Library to look up all the death notices of the names that I have seen at the Manchester cemetery.
By the beginning of March I was back to the Department of Vital Statistic's looking at the death indexes again.  Although there were other Patrick's Joyces and/or Ellen Flatley and Ellen Joyces none that I looked at matched the known information.  I had read that the New England historical genealogical Society was going to have a class in Irish history at Newbury Street. So of course I went to see if there is something new I could learn about Irish research online.
By mid-March I was in the Chelsea library looking up the address for Ellen Flatley that I ran across that  listed as 10 Ash Street, Chelsea Mass. The name listed for 10 Ash Street was Bridget Whelen. I looked at the other city directories of that time and the names at the addresses and over the next four years.  Nothing for me to follow as none of the names matched anything I had come across up to now.
By this time I had run out of Ellen Flatley's to follow with nothing more to go on, so I decided to try Patrick Joyce first family to see what had happened to his son's before taking the last step of contacting the current Flatley family of Manchester by the Sea.
By early April I was back at St. Joseph's Cemetery looking at a Patrick Joyce that died in  1954. This was not Patrick F. Joyce.. I kept coming to dead ends on both Ellen and Patrick. It was also a grave for Ellen Joyce born 1879, died 1954.  The owner of a plot was a Patrick Joyce.  Again, the wrong Patrick and Ellen.
By mid April back to Boston going through the old Boston city directories and again finding 1917 and Ellen Joyce living at 28 Moulton St, Chelsea and Patrick F. Joyce going at 24 Cedar St. In 1930 we have an Ellen Flatley living in Jamaica Plain and Patrick F. Joyce still living at 24 Cedar St.  In 1933 we still have Patrick F. Joyce living at 24 Cedar St. in 1945 have an Ellen Joyce living on Mass Ave and an Ellen Joyce living at 106 Beacon St.  She was listed as it maid.
Back again to the Department of Vital Statistics I was looking for birth marriage and death records to see who was connected to the Manchester Flatley's that I could contact today about what I have put together of the Flatley girls. By mid-April  I knew that there was an Ellen Flatley of today that was the granddaughter of Norah Flatley, Flatley I did wonder if she was named after Nora's sister Ellen.
I did send a letter to Ellen Flatley of Manchester and received a response that she is the granddaughter of Norah Flatley and that Norah came from a large family.  Ellen explained that she was named after her material grandmother ( Maryellen Barrett Fulham) not her grandmother's sister Ellen. There was little known of her grandmother's sister Ellen other than she had married a man named Patrick Joyce. In her letter she did give her e-mail address and said that it would be okay to forward this to Jo my friend in Alaska which I did.
Apparently this opened some communication between Ellen Flatley of Manchester by the Sea and my friend Jo of Alaska.  After a short period of the two communicating I did receive an e-mail from Jo stating that it was rather strange that she would be e-mailing to an Ellen Flatley of today.  They did have some communication for a period of time although how much I didn't know for how long.
Here I was again back to Patrick Joyce. He had a sister Ellen born in 1865 she died young and Thomas a brother he died in 1912 . Thomas wife Margaret died in 1939, both the buried at the Calvary Cemetery in Winchester Mass.
By mid-May I was at the Calvary Cemetery in West Roxbury to see who was buried with Patrick's first wife Mary Lordan.  There were Dennis Lordan father of Mary, and Frank P.Joyce.
The question was who was Frank P. Joyce?  Back to Boston see who Frank P. Joyce is. The death record tells me his parents a Patrick F. and Mary Lordan.  This was confusing because Peter and Mary had three sons Peter F. Joyce Ernest Joyce and Joseph Joyce.   As it turns out somewhere after 1930 Peter began using his middle name Frank and was buried as Frank P. Joyce.  Patrick also known as Frank married Mary F. Garvin in 1920 and was living at 131 Cedar St in 1930 census. They had a son Francis J. Joyce born August 7, 1922.  I then looked for a death for Mary F. Flatley. She died January 30, 1977, the informant was her son Francis J. Joyce of Stoneham Mass.  Both Frank and Mary are buried at St. Joseph's Cemetery. Then I was then off to Malden Holy Cross Cemetery where I located the missing Peter Joyce father of Patrick Joyce. After walking around there I found nothing that appeared to be connected to anything I was trying to put together no other Joyces or  Flatley's.
I looked to see if Francis J Joyce had died, there was no death record so I had finally found someone that I could actually talk to. When I  tracked down Francis Joyce and his wife Helen, she told me that Francis was in the hospital, and not doing well. His wife told me about a cousin Betty Burnell in California.  When I spoke with her I find that she was the daughter of Ernest M. Joyce, son of Patrick Joyce. She knew nothing of Ernest father Patrick Joyce or whatever happened to him.
By the end of May back to the Boston city directories trying to find out what I may have missed with the addresses of 24 Cedar St or Dustin Street. Nothing stood out at either location from the 1930s city directories by early July I was back at the  Boston public Library looking at the early residence books 1920s or 1930 looking at the single name Ellen Joyce or Ellen Flatley. Since neither Ellen or Patrick appeared in the death records of Massachusetts I had to assume that both had left the State at some point although there were a few Ellen Joyce choices floating around in the Boston city directories through the 1939 in 1959 but they were individuals that didn't appear to be connected to anybody other than they were working at a specific address. I did find an Ellen Joyce who was connected to a Coolidge family since 1939 and was with them until 1959.  I did contact Paul Coolidge who was connected to the family from the 1939 to 1959 and that went nowhere.
Over the summer I kept thinking I missed something or someone and reread all that I've done up until this time. I did send out a few letters to some Flatley's on the south shore where I live explaining the basic story of the search for Ellen Flatley, with no response.
By now I had well over 100 Flatley names floating around in my files and as each one was looked into I found myself getting further away from the original Flatley girls.
In early September I began looking in the Suffolk County court probate Index of names, for either Ellen or Patrick Flatley.  There were several of each so I ordered the records of Ellen Flatley and Ellen Joyce and sat and read through them all. None were the missing Ellen. Then I began the same project with Patrick Joyce. There were a few Patrick Joyce listed in the index and again I ordered what was available. I spent the afternoon reading the different documents half expecting the same results I had with Ellen.
There were not as many Patrick Joyce documents as there were Ellen's and the last document of the day that I read told the story of the settlement of the estate of Peter F. Joyce of San Francisco who had died November 30, 1936 in San Francisco.
The heirs were listed were Ernest M. , Joseph and Frank P.Joyce. Ernest Joyce was handling the estate for the family and at this time living in Virginia. This sent me back to Betty Burrnell the cousin in California.  I did ask for her help in obtaining a copy of Patrick's death certificate and a copy of her family information to add to the Joyce family, then I checked and I could do this online. Thinking the program through I figured that if both Patrick and Ellen had left Massachusetts together Ellen's name could be on Patrick's death record as the informant.
October 8th  I sent for a copy of Patrick Joyce death certificate and it was in my hands on October 11, 2009. When Patrick Joyce death certificate arrived I expected to see that the informant would be his wife, Ellen. The informant was his son Ernest, however, listed as his wife was Mary, his first wife. There was no Ellen Joyce listed as the widow strange his first wife Mary Joyce was listed.  So now I get thinking, what did I miss. Did  Patrick remarry after Ellen and if so, did he marry another Mary or was this actually his first wife's name Mary Joyce? His son being the informant, he could have put his mother down as Patrick's wife, who would know.
Now I'm thinking in a direction that had not occurred to me in all this looking for either Ellen or Patrick, was there a divorce back then?? And if so when? All along the object was to find out what happened to either Ellen Flatley or Patrick F. Joyce. Since neither left any Massachusetts paper trail I would have never thought about a divorce. Although I had never researched a divorce I knew that the index's began in the 1950's at the Department of Vital Statistics. Those index's gave you the county that you needed to go to that county court to look for the actual record. Then I started thinking of the census listing Patrick as married although there was no Ellen listed in either 1920 or 1930 census.
So, I thought whatever happened must have happened between 1914 and 1920.  That left the divorce records somewhere. So I went back to Suffolk County Court where I had done the estate searching. There they explained that a divorce prior to 1922 would be located at  the old Suffork courthouse up behind the State House. On October 24th I find myself at the  old courthouse speaking with Virginia about the old index is prior to 1922.
She checked the indexes and found a record of Ellen Agnes Flatley Joyce and Patrick Joyce Docket number 18165.  It was also a record of Patrick and Mary Joyce.  I was only interested in that first one, Ellen and Patrick. I told Virginia I was interested in seeing that paperwork. She told me to contact Tom Hennessy on Monday and he would locate the Docket that I was looking for.
On Monday I spoke to Tom Hennessy and he told me he would locate the Docket and give me a call.  On October 28th Tom called and left me a message, that the Docket had been ordered and it could take anywhere from a few days to a week as they are stored at an off-site storage location.
October 31, 2008  Tom Hennessy called and said that he had the material I was looking for on his desk but he would be off next week. I  told him I would be there in 45 minutes and I was. I sat down to read through the paperwork of the divorce of the missing Ellen Agnes Flatley Joyce also known as Helen Agnes Flatley.
In September 1915 Ellen also known as Helen was committed to the Boston State Mental Hospital.  Apparently Patrick F. Joyce hung in there for five years and in 1920 filed for divorce. So after all those years we find Ellen had been hiding in plain sight, but known and buried as Helen Flatley Joyce.  I made copies of all the original paperwork attached to that docket . My next stop, the Department of Vital Statistics. When they opened at 2:00 PM, I was in and out in twenty minutes with a death certificate in hand for Ellen also known as Helen Flatley Joyce. Within the hour I was standing at the grave of Ellen Agnes Flatley Joyce.
Once I had a copy of the death certificate I was on my way to St. Joseph's Cemetery in West Roxbury, I'd been there a few times in the past 10 months.  At cemetery office I was directed to St. Joseph's Ave, section G. known as the fields where all markers are flush. The map showed the location of the unmarked grave purchased by Nora Flatley.
To get to the fields I took a left on Saint Patrick Ave and parked at the bend in the road. Then I looked around and remembered that I'd been there in the snow at the grave of Thomas Flatley,the same day that I visited the grave of Ellen, Mary, Sarah and Patrick Flatley.
I then walked out into the field  of G. section and found the markers that brought me to the unmarked grave of Ellen Agnes Flatley Joyce also known as Helen A Flatley Joyce.. Walking back to my car I remember the winter visit and I think that it was 8 months ago and I was within 1000 feet of my final destination. I went home to think about how I was going to break this news to my friend in Alaska. The good news Ellen had been found. The sad news, where she had been for 15 years before she died.
I did feel that this part of the story required a phone call rather e-mail in explaining about the Boston State mental Hospital.  Once I had all this sorted out I made a call to Alaska. Better to hear the answer from me than to read it on paper.
Then I asked how long had the family been searching for her grandmother. Apparently Marian and her brother had taken up where their mother had left off and it had been over twenty years of searching. Her brother had passed away and she had continued the search believing that it could be done. We didn't talk too much about this at the time but I do plan on asking more if and when we meet.In November I was going to Boston on another project and I asked  my friend in Alaska what kind of flowers would she would put on Ellen's grave if she were here?
She said either a yellow or white rose, so I placed a mixed dozen yellow and white roses on the unmarked grave. She thought that was thoughtful, me I felt I found her and I was honored to be the first to put flowers on her grave. Over time Jo and I emailed back and forth about her coming to Massachusetts sometime in the future and maybe we would meet and go to Ellen's grave.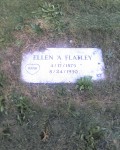 Time did pass, the summer of 2009 came and went and I thought, well maybe Marian came and kept her visit private. Then in October2009 I was thinking it had been a year and did a stone ever get placed on the grave of Ellen Flatley? So, on my next visit to the city when I finished my current project I stopped by St. Joseph's Cemetery. There was a stone in place to Nana, Ellen Agnes Flatley so I thought I must have missed the visit. I took a picture to add to  my file and emailed Alaska to see if Marian had been to Massachusetts yet. When she said that she had not been here yet, I forwarded a picture of her stone in place. She had not seen it and thrilled to see it and know that it was there and still plans on coming to visit that grave.
We emailed back and forth through December 2009 and again in January of the New Year. Somewhere along the way Marian had connected to a distant relative who has also done some serious family history. Recently I received a photo of what is known as the Flatley girls.
I now have a photo of Nora, Sarah and Ellen Flatley.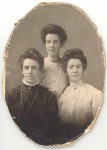 Currently the rest of the story is we are meeting February 28, 2010 in Boston where I will meet Marian  and her friend from the North Shore. From there we will visit St. Joseph's Cemetery and the grave of the missing Ellen Agnes Flatley
Although this is the short version of what took place, by the time I was through this project I had quite the History of the Flatley's of Boston 1900 to 1940. In reviewing all my notes I only mention the most direct route of the story without talking about all the other Flatley families that I looked into while trying to follow the Ellen Flatley's of Boston 1900 to 1930.
Today is Sunday,  February 28, 2010 and at 8:45 this morning I meet Marian and her two friends Sheryl and Trish.  We had agreed to meet at the Museum of Fine Arts on Huntington Ave. in Boston.  And off we went to St. Joseph's Cemetery in West Roxbury which is about a 15 Minute Drive.  As we travel Route 9 West we come to a set of lights and I comment by cell phone that this  intersection of Cypress  street leads to the Ellen Flatley that lived on the corner of Cypress and Hart Street. This is the first Ellen Flatley  we went looking for that had died in 1968.
We arrived at St. Joseph's Cemetery and go through the gates and go left and travel a bit to our first left on Saint Patrick Ave and park on the left at the first bend in the road.  Then the four of us walked over to the field and go to the third row and follow that row to the grave of the Ellen Agnes Flatley.
I stand back a bit while Marion kneels at the grave of her grandmother.  It's a very  emotional  moment for Marian and she says she has two songs she would like  to sing to her grandmother and it has been a long time coming.  She places a basket of flowers at the grave and then tells her grandmother of her long search that ends today. It is actually a very mild morning and you can here a few birds in the background. It is really quiet here so her singing carries through the cemetery and the songs were beautiful.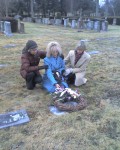 Thankfully she didn't sing amazing Grace because I would've broken down more than I already had. And then she talked her grandmother about things that she had missed and all the things that she had become and all the dreams of this day that has finally come to be.
We spend some time there as Marian had many things to say and that she has waited so long to say them. At different times there were a few more pictures that were taken of Marian at her grandmother's grave. Then Marian asked each of us if we would like to speak  My being the new person to the search with her friends I was short on words other than, I was glad to be there for this visit she had waited so long to have.
As we walked back to the cars I mentioned that I'd been here before but only about 1000 yards away.  In February of 2008 I had followed a Flatley death notice to the cemetery and had parked in the same spot we  parked in today. I walked across the street and found the stone for a Thomas Flatley.  I had been following any individual Flatley's from my list.  I would go to a grave see who else was buried there looking to see if Ellen Flatley had been buried with the Flatley's or whether any Cornell's which would be Ellen's Mothers maiden name were nearby.  I explain that to the girls this morning because strange as it is in February of 2008, I was thousand feet away from my final destination of Ellen Agnes Flatley's grave.
We left the cemetery and went back out to Route 9 East bound to a Starbucks to have coffee.  There each of her friends told me how they had met and when and now they were here with Marian for this very special trip that she had waited for so long to do.   Then for the next hour or so I told of different stories that I had done over the years.
Marian asked that I explain to her friends why I became involved in searching.  I told the short version of searching for my sister. When I came to the part about Nova Scotia they knew what I was talking about, they had been to Cape Breton many times as well.  Cheryl asked if I knew where Meat Cove was. I told her certainly I had been there while traveling the Cabot Trail.  Apparently her grandparents were from there. It seems that Marian and Cheryl have done that traveling as well as I. Sometimes you have to wonder it really is a small world.
I also learned today that apparently Marian has been seeking the location of Ellen Flatley's grave since she was in grade school. Today her visit to St. Joseph's Cemetery resolves the long sought question of what ever happened to Ellen Agnes Flatley. And she thanks her friend Trish for putting her in touch with Mo who in turn put her in touch with me. You know when at the end of a search and you actually see how much it is worth the to the seeker to finally have an answer they were looking for, then you really know how much it means, as I saw today.
When I got up to leave there were hugs all around and Marian thanked me for taking this time this morning to meet with them to go to the cemeter . I told her I had waited 16 months to do just that. Then I said she had waited a life time for today to be and I was very happy to be a part of that.