Bob and Ruth 2017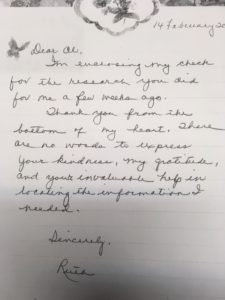 Back a number of years ago I met Bob as we crossed paths while we were both on a research project. Then we did a few projects together and he asked me to do a personal project for him as a surprise for his wife's birthday.
It was a personal family search and she was certainly surprised at the time. Over the years we did kept in touch and a few times a year we would do a few projects together.
Bob left us in April 2011 and over the passing years I would see his wife and family on and off in our little town, at a local restaurant or just out and about. Ruth would always remind me of the things Bob and I had done together over the years.
Then in January 2017 I received a call from Ruth. She asked if I remembered her and of course I did. She asked if I could help her with a personal project she had been working on that was family related and she had a list of names.
She explained what she was doing and it would a great help if I would look into it for her. I researched  her project in Boston along with the current one I was working on. When I completed her project and contacted her, she came by my office and I gave her a report.
She asked what she owed me and I told her nothing as it was done for Bob. Of course she didn't buy that and a few weeks later I receive a note in the mail with a check. Being as this was a very personal request I asked if she would write the back story for me.
She said please write a short note of my request and the research you provided. Being as we are both local people she preferred my not using her last name or discussing the very personal information that that was researched. With that in mind, I decided to keep it brief and let the note from her speak for itself.
I have waited until now to tell this short story as I have not seen Ruth since 2017.
Please see the attached note dated February 14, 2017.